We want 10 selected companies, using Hubspot or Pipedrive, to boost their productivity in 3 months or your money back.
Are you struggling with low performance and bad habits in the sales team?
While working with more than 400 companies all over the world, Gamifier
has found some common challenges in the sales team.
Which one do you deal with?

Low motivation in the workplace

Being held hostage by the super "A" salespeople

Not using the CRM you paid for

Bad habits to keep the
CRM up to date

Without time to recognize small and relevant actions

Lack of smart information about team productivity
For every problem above, we built a Gamifier solution.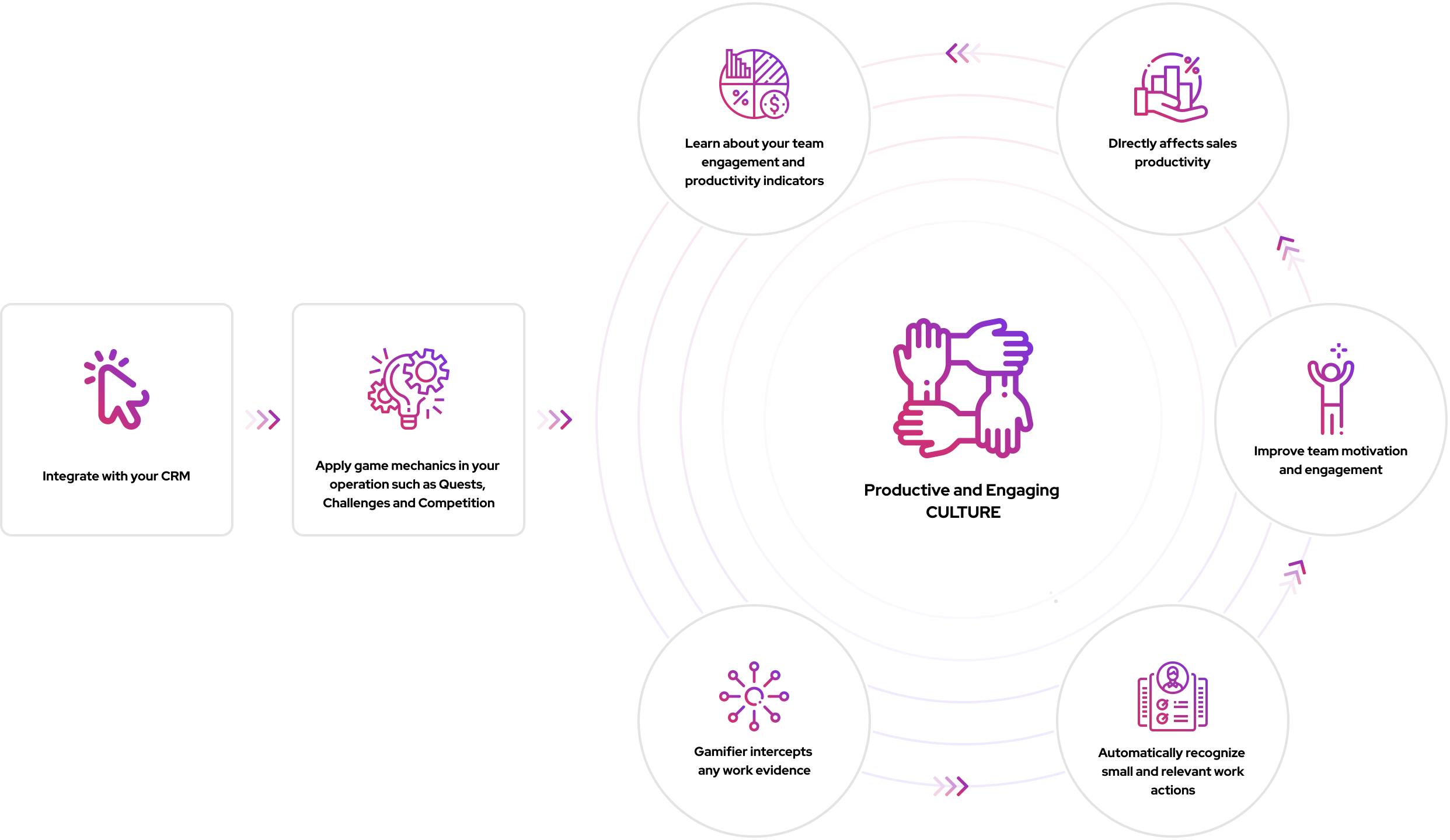 While working with more than 1300+ sales reps in the past months, we learned
a lot of things that we want to share with you
Now we are looking for 10 selected companies to join our special 1:1 program
to experience the Gamifier platform. If you are a sales leader using Pipedrive or Hubspot, this is for you.
Great! How to join the program?

You fill the form to book an onboarding meeting

We setup custom gamification for you


We commit together in working for results
More than a program, It's a partnership
You have a challenge, we have the solution.
And to help you achieve the success in this program, we will work together in some activities:

Onboarding day
To make sure everybody in your team  is ready to start the journey

Account all set
To guarantee your account is ready to run the best out of sales gamification

1:1 with Gamifier
To work together and learn month by month about what happened

Stay connected
To recieve  suggestions and ideas of improvements that come around

We are fair
Your money back is guaranteed if results are not achieved in 3 months

Use Gamifier Platform
To introduce a productive culture in your team's daily work
Still not convinced in using Gamifier?

So, what would it mean for your team if your culture was based on proactivity, recognition, and collaboration? 
"Not only did our sales win rate and average sales win cycle increase very quickly after adoption of Gamifier, but team members' attitudes to work vastly improved as well. Gamifier is now an integral part of the day to day operation and a critical component to our ongoing success."
Ben Martin

General Manager at CastleDex

To create different results, start new approaches now